Posts tagged 'intelligent design'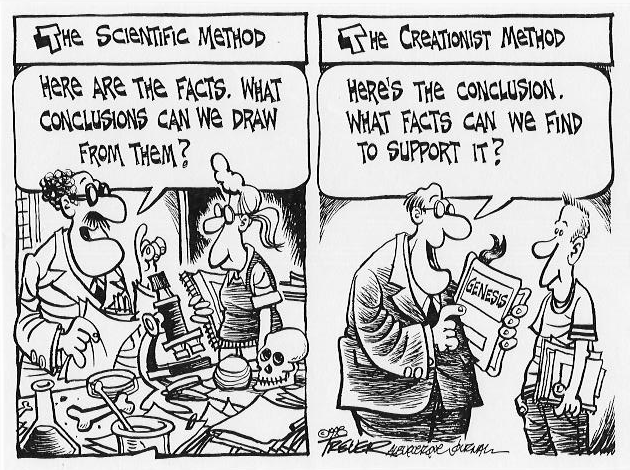 by John Trever, Albuquerque Journal, 1998.
I don't have a problem with intelligent design (ID). In fact, I believed in something like intelligent design when I was a kid and it allowed me to be both a creationist (believing God created the universe) and to accept science and evolution (God set the ball rolling, set up the rules, and used evolution as a tool). Eventually this led to me dropping the creationist beliefs.
I do support ID as a philosophy because it gives fundamentalist and evangelical kids a way to accept evolution. Born-again Christian kids are going to be taught some form of creationism whether skeptics and atheists and scientists like it or not. I for one would like that to include at least a rudimentary acceptance of evolution as a concept. And since ID is basically a "God of the gaps" theory, it will eventually collapse under scrutiny by those who take the time to think, and the individual may be left with naked evolution.
Literal young earth creationism on the other hand, is part of a mindset that does not leave much of a window for thought at all, and it is a much more insidious philosophy.
I can live with people thinking that God started the evolutionary ball rolling, and even with the idea that he tinkers with it a little bit — as long as they keep their religious beliefs out of public school science classrooms, unless they actually scientifically discover verifiable evidence of God's tinkering…
Continue Reading June 21, 2008 at 1:43 pm druchunas 47 comments